Cristiano Ronaldo's son joins Instagram, already has 979,000 followers Read more: https://www.legit.ng/1305915-cristiano-ronaldos-son-joins-instagram-979-000-followers.html
Nostalgji
10:58 | 13 Dhjetor 2020
Cristiano Ronaldo's eldest son, nine-year-old Cristiano Jr, has joined the social media world. The footballer's son created an Instagram account this week and in just a day he had 800 000 followers.
A couple of hours later, the number of followers shot up to a whopping 979 000. The young footballer only has three posts on his new account. Cristiano Jr's first Instagram post was a video of himself announcing his arrival on the popular social media platform.
The clip gathered over 3.4 million views in just over a day and social media users were in awe of the nine-year-old's linguistic skills. He welcomed people to his Instagram page in four different languages – English, Spanish, Portuguese and Italian. Juvetus talisman Cristiano Ronaldo seemed to support his son joining Instagram and he reacted to Cristiano Jr's first post with an emoji. The young boy is also followed by Ronaldo's former Real Madrid teammate Marcelo.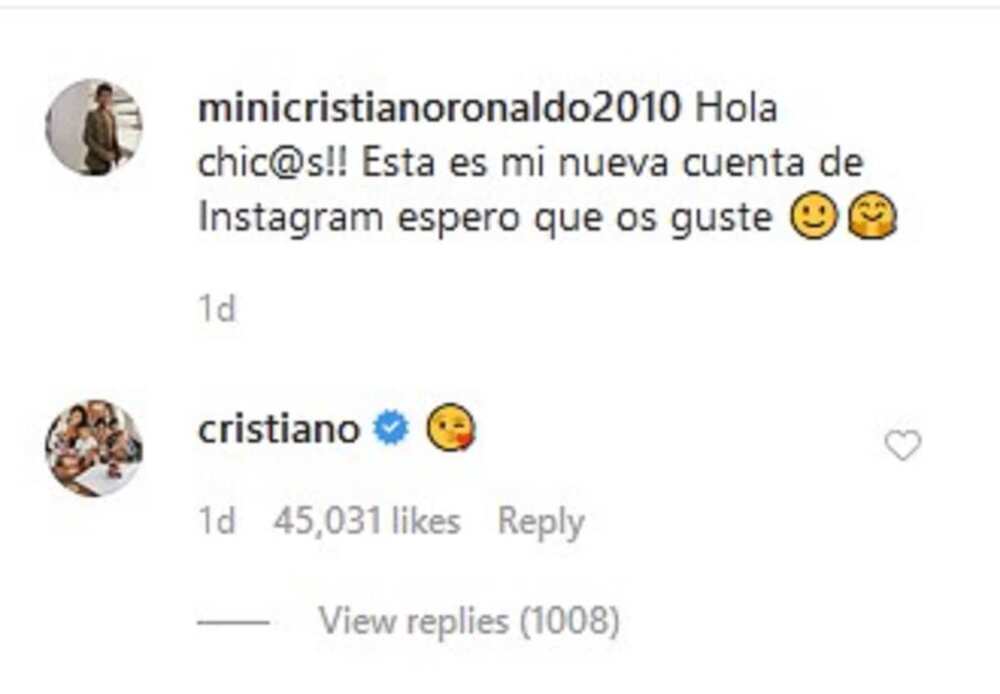 Although his following is quickly nearing one million, Cristiano Jr only followed five accounts, including his dad, Georgina, the Juventus football club, footballer Miguel Paixão and his grandmother María Dolores. Meanwhile, Legit.ng had reported that if anything could be said of Cristiano Ronaldo's legacy in football, apart from his enviable goal-scoring prowess which has seen him hit a record-breaking 700 career goals in a spree of 973 matches, his son Cristiano Jr would also be at centre of discussion. The Portuguese star came to Juventus after disagreeing with Real Madrid hierarchy in 2018 with his 9-year-old son also joining the Turin youth academy.