Could Cristiano Ronaldo Jr be as good as his dad?
Nostalgji
20:50 | 01 Dhjetor 2020
Real Madrid's Cristiano Ronaldo is a bona fide goal machine.
The 33-year-old Portuguese forward has averaged nearly 50 goals a season in nine years with los blancos which is, quite frankly, utterly ridiculous.
But, as Ron enters the twilight of his career, people have started daring to imagine a football world without CR7's incredible goal-scoring exploits. What would the beautiful game be like without one of its greatest showman?
Well, it seems as though the five-time Ballon d'Or winner has been hard at work crafting football's next superstar through his son, Cristiano Jr.
He's only seven years old, but Ronaldo's lad has shown off some impressive skills. However, when you consider that his dad is essentially his personal trainer, perhaps it's not that much of a surprise.
Check him out here swerving in and around defenders before slotting the ball home in front of a jam-packed Bernabeu during a break in the Madrid derby.Mini-Ronaldo was also snapped trying to recreate his dad's iconic bicycle-kick goal against Juventus from the Champions League on the weekend.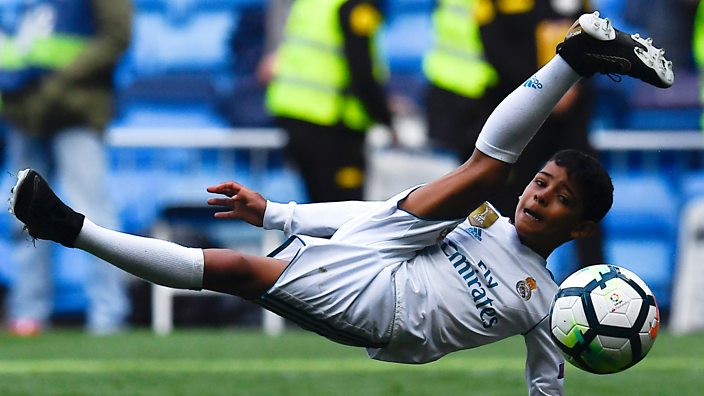 Not a successful attempt by the looks of it, but nonetheless, it appears Cristiano Ronaldo Sr is trying to future-proof his goal-scoring legacy through his son. Even now, Cristiano Jr may already have the skills and the potential to match his father's accomplishments.
Here are a few other characteristics from Ronaldo Sr's skillset that are rubbing off on his son.
Going hard in the gym
Cristiano Jr usually drops in for a casual gym sesh alongside his dad.
"Daddy, I'm going to be like you," Ronaldo writes alongside one Instagram post showing off his son's muscles.
Those are some serious gains from the kid, and it seems his dad is the one showing him the secrets.
And if you've ever seen the size of Ronaldo's gargantuan thighs, you'd know he never skips leg day, which is why he's here building those quads on the treadmill with Cristiano Jr.
We're done with the ice cream," Ronaldo says. "Now it's time to work."
So it's treats first in the Ronaldo household, then?
Ronaldo has become one of the most reliable penalty takers in the game, having bagged more than 100 goals from spot-kicks in his career, so it's a no-brainer that he'd pass on the tricks of the trade to his son.
"If you don't score, you have to do 10 push-ups," Ronaldo says, before giving his son three attempts to score a pen.
Junior must have felt chuffed with his efforts by the end of it, after missing one, hitting the post on another, and burying the third attempt, but his dad saw room for improvement.
"But I scored,'" Cristiano Jr says, before Ronaldo replies with: "Do them [the push-ups] anyway. Come on, only 10."
Next on the curriculum will probably be goal celebrations, Cristiano Jr here opting for the classic slide rather than a leap and plant like his dad. Still so much to learn.